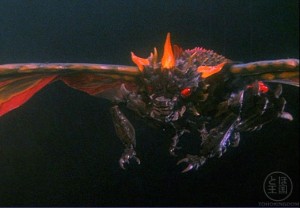 Battra is the evil counterpart of
Mothra
, who, in his Imago form, has a wingspan of 180 meters, and a length of 73 meters. In his larval form, he is 90 meters long.
Imago form powers
Larval form powers
Horn can shoot yellow electric blasts
Purple electrical beams that he can't control easily
Horn can shoot energy pulses
Ad blocker interference detected!
Wikia is a free-to-use site that makes money from advertising. We have a modified experience for viewers using ad blockers

Wikia is not accessible if you've made further modifications. Remove the custom ad blocker rule(s) and the page will load as expected.