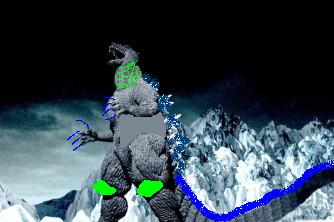 Godzilla3000 is another one of
Godzilla
's younger brothers. He is 110 meters tall.
Abilities
Crystal green Atomic Ray
Blue toxic mist from plates on back that can poison other kaiju, but doesn't hurt Godzilla3000
Can breathe in air, water, and outer space
Appearance
Godzilla3000 looks just like 2004 Godzilla, except with green crystals for knees, longer blue claws, the plates and top of his tail are covered in blue powder, he has green rings around his neck, and is 110 meters tall.
Allies
Ad blocker interference detected!
Wikia is a free-to-use site that makes money from advertising. We have a modified experience for viewers using ad blockers

Wikia is not accessible if you've made further modifications. Remove the custom ad blocker rule(s) and the page will load as expected.