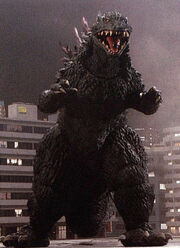 Height: 77 meters; Mass: 30,000 tons
After Titanosaurus was killed by Godzilla, they used what was left of Mecha-Godzilla II and created Mecha-Titanosaurus.
After they where finished with Mecha-Titanosaurus they sent him to destroy Tokyo but a new godzilla (Godzilla 91) approached attacking Mecha-Titanosaurus.
Evenually Godzilla jabs his hand into Mecha-Titanosaurus's chest killing him causing Mecha-Titanosaurus to explode. The tired Godzilla went back to his Ocean home.
Attacks: Lazer eyes; Plasma beam from stomach; green atomic heat ray; Cyclone tail; extraordinary jumper; flight; able to shoot rockets from fingers and feet
Enemies:
Godzilla (91')
Godzilla (1974-1975)
Appearance
Edit
Looks like 2000 Godzilla with Spacegodzilla's shoulder crystals and tail with robotic skin.
Ad blocker interference detected!
Wikia is a free-to-use site that makes money from advertising. We have a modified experience for viewers using ad blockers

Wikia is not accessible if you've made further modifications. Remove the custom ad blocker rule(s) and the page will load as expected.